Corporate Purpose
What is Corporate Purpose?
Corporate purpose refers to why a company exists. In essence, its reason for being. It can be perceived as the North Star which guides the ethos, strategy and all functions of the company.
A company's values, vision and mission are not its corporate purpose, but they are informed by it. As economic and social needs evolve over time, a company may revisit its values, vision and mission to ensure continued alignment with its deeper, evergreen corporate purpose.
Corporate purpose can then be operationalised in the five impact areas of People, Society, Governance, Environment and Economic.
This is the shared definition co-created by the industry-led group of multi-sector stakeholders - Alliance for Action on Corporate Purpose (AfA-CP).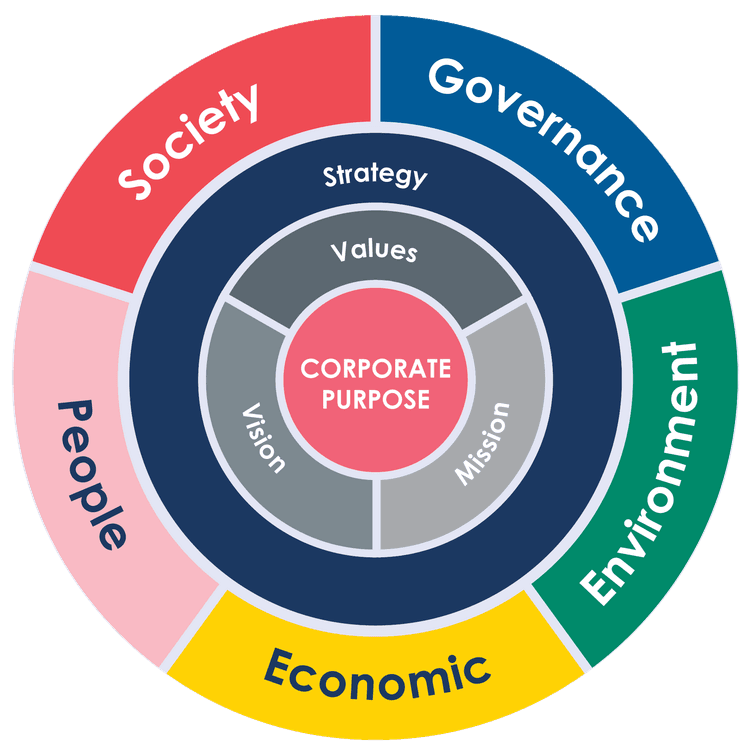 CORPORATE PURPOSE
Guiding principle that informs all decision-making
WHY a company exists
VALUES
Fundamental beliefs that guide behaviour
WHO we are - the principles we live by in order to pursue Corporate Purpose more effectively
VISION
Long term aim of the organisation
Our highest aspirations for WHAT we care most about creating when we fully embody Corporate Purpose
MISSION
Objectives and goals of the organisation
HOW are we going to achieve the vision
STRATEGY
Decision making and resources allocation
HOW TO enable the mission and demonstrate our Corporate Purpose
AREAS OF IMPACT
Areas where corporate purpose can be enacted
WHERE Corporate Purpose is demonstrated

People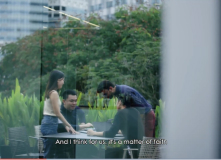 Putting people first drives talent retention and business growth

Society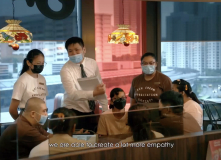 Lifting communities through inclusivity

Governance
Integrity and trust are foundations of purposeful business
Environment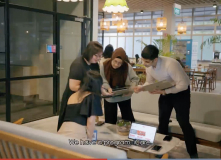 Sustainability is the next revolution

Economic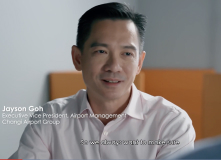 Innovation as a key engine of growth
Ingraining Purpose in Business
Amgen Singapore Manufacturing
Asian Venture Philanthropy Network
CapitaLand Investment
Changi Airport Group
Citi Singapore
City Developments Limited
Cognizant
ComfortDelGro MedCare
DBS
Eco-Business
EDPR Sunseap
Ernst & Young
Frasers Property Limited
Fullerton Health
GIC
UN Global Compact Network Singapore
H.A.M. Creations
HP Inc
IBM Singapore
Jardine Matheson Group
Johnson & Johnson
Kellogg Asia Pacific
Maybank Singapore
Ministry of Culture, Community and Youth

Olam International
ONE Championship
PayPal
Prudential Assurance Company Singapore
PSA Corporation
Q&M Dental Group
Singapore Centre for Social Enterprise, raiSE
Royal Golden Eagle (RGE)
Samsui Supplies & Services
Sembcorp Industries Ltd
SGX RegCo
Singapore Management University
Singapore Post Limited
Sodexo
Standard Chartered Bank Singapore
S&P Global
Temasek International
Unilever International & Unilever Asia Pte Ltd
UOB
Visa
X-Inc Pte Ltd
PwC Singapore
Sequoia Group
Alliance for Action on Corporate Purpose
(AfA-CP, 2021-2022)
The Singapore Together Alliances for Action (AfA) are action-oriented, cross-sector collaborations on significant areas to develop and deliver solutions for Singapore's future. In this regard, NVPC launched the AfA on Corporate Purpose (AfA-CP) in 2021 to develop Corporate Purpose: A Framework and Blueprint for Businesses in Singapore. This AfA arose from Emerging Stronger Conversations (ESC) sessions organised by NVPC, where participants collectively envisioned a business ecosystem that supports and enables corporates to effectively align purpose and profit to become a force for good in Singapore.
Members of AfA-CP
Jointly chaired by Mr Seah Chin Siong, Chairman, NVPC and Ms Janet Ang, Deputy Chair, SBF Foundation, the AfA-CP comprised more than 40 representatives representing various stakeholder groups in Singapore's corporate ecosystem. Supported by the Ministry of Culture, Community and Youth (MCCY), the industry-led coalition also saw advisors from local and overseas organisations providing strategic advice and guidance; as well as resource members contributing specific expertise and other resources to drive the successful outcomes of the AfA-CP.
Mr Seah Chin Siong, Chairman, National Volunteer & Philanthropy Centre
Ms Janet Ang, Deputy Chair, Singapore Business Federation Foundation
Mr. Ong Chong Tee, Chairman, Accounting and Corporate Regulatory Authority
Mr. Laurence Lien, Chairman, Asia Philanthropy Circle
Mr. Peter Ong, Chairman, Enterprise Singapore
Mr. Jay Jakub, Chief Advocacy Officer, EoM Movement
Dr. Darian McBain, former Chief Sustainability Officer, Monetary Authority of Singapore
Mr. Lim Boon Heng, Chairman, Temasek Holdings
Ms Mindy Chee, Senior Manager, Corporate Affairs, Amgen Singapore Manufacturing
Mr. Kevin Teo, Chief Operating Officer, Asian Venture Philanthropy Network
Mr. Tan Seng Chai, Chief Corporate & People Officer, CapitaLand Investment
Ms. Justina Tan, Executive Vice President, Corporate, People and Culture, Changi Airport Group
Mr. Jimmy Ong, VP, Corporate Citizenship, Global Public Affairs, Citi Singapore
Ms. Esther An, Chief Sustainability Officer, City Developments Limited
Ms. Pratibha Kurnool, Global Head of Community Impact – ESG Outreach, Cognizant
Mr. Vincent Tan, Chief Executive Officer, ComfortDelGro MedCare (concurrently the Chief Executive Officer, ComfortDelGro Driving Centre)
Ms. Claire Wong, Executive Director, DBS Foundation
Ms. Jessica Cheam, Founder and Managing Director, Eco-Business
Mr. Robin Pho, Country Head, Indonesia, EDPR Sunseap (former CEO, Right People Renewable Energy)
Mr. Panneer Selvam, Partner, People Advisory Services, EY
Ms. Adeline Ong, Senior Vice President, Head of Group Strategic Communications & Branding, Frasers Property Limited
Ms. Shirley Lim, Sustainability Office, Fullerton Health
Ms. Mah Lay Choon, Head of Corporate Communications, GIC
Ms. Esther Chang, Executive Director, UN Global Compact Network Singapore
Mr. Shigekawa Hidekatu, Finance & HR Director, H.A.M. Creations
Ms. Vivian Chua, Head of Services and Solutions, Greater Asia, HP Inc.
Ms. Sarah Ong, Head, Government & Regulatory Affairs, IBM Singapore
Ms. Colyn Chua, Head of MINDSET Singapore, Jardines Matheson Group
Ms. Angeline Chin, Global Community Impact APAC lead, Johnson & Johnson
Ms. Sharon Eng, Head of Corporate Responsibility & Sustainability, Maybank Singapore
Ms. Apriani Kartika, Sustainability Lead, Maybank Singapore (previously with Prudential Assurance Company Singapore)
Mr. Philip Ong, Deputy Secretary (Community and Youth), Ministry of Culture, Community and Youth
Ms. Melissa Kwee, National Volunteer & Philanthropy Centre
Mr. Tony Soh, Chief Executive Officer, National Volunteer & Philanthropy Centre
Mr. Joydeep Bose, Managing Director & Group CHRO, Olam International
Ms. Lin Yan Yan, Senior Director, Corporate Office, ONE Championship
Mr. Rahul Mallan, Program Manager, Business Program Management, Paypal
Ms. Ong Chiew Suan, Head of Corporate Branding and Commercial Division, PSA Corporation
Dr. Mohanarajah S Senathirajah, Head, CSR, Q&M Dental Group
Mr. Alfie Othman, Chief Executive Officer, Singapore Centre for Social Enterprise, raiSE
Mr. Bey Soo Khiang, Vice-Chairman, RGE Group
Mr. Ang Kian Peng, Director, Samsui Supplies & Services
Ms. Gwendolyn Loh, Vice President, Group Strategic Sustainability, SembCorp Industries Ltd
Mr. Tan Boon Gin, Chief Executive Officer, SGX RegCo
Professor Annie Koh, Professor emeritus of Finance (Practice) and Senior Advisor, Business Families Institute, Singapore Management University
Ms. Michelle Lee, Head, Group Sustainability & Corporate Services, Singapore Post Limited
Ms. Lee Qi Ni, Corporate Responsibility and Diversity, Equity & Inclusion Lead, Malaysia-Singapore, Sodexo
Ms. Sharon Lee, Head, Corporate Affairs, Brand & Marketing, Standard Chartered Bank Singapore
Ms. Cheryl Chen, Director, Global ESG Strategy & Engagement, S&P Global
Mr. Keith Lin, Director, Public Affairs, and Director, Internal Communications, Temasek International
Ms. Shweta Shukla, Head - Communications, Corporate Affairs & Sustainability, Unilever International & Unilever Asia Pte Lt
Ms. Fang Jiayun, Head, Corporate Sustainability, UOB (previously with Shiseido Asia Pacific)
Ms. Patsian Low, Vice President, Inclusive Impact & Sustainability, Asia Pacific, Visa
Mr . Nicholas Ng, Director, X-Inc
Between October 2021 and September 2022, the AfA-CP came together to co-develop and co-design the principles, practices and indicators as part of the Corporate Purpose Framework and Blueprint and recommended actions to ecosystem actors to create an enabling environment, including policies that would help enhance Singapore's economic competitiveness and future readiness through purpose-driven companies committed to making a positive impact across the People, Society, Governance, Environment and Economic dimensions.