Paving the Trails that Lead to a Better Society
This article was originally published on Rice Media.
Over the years, nothing has grabbed the attention of HR professionals quite like a "safe space".
Its meaning has no doubt been reinterpreted and, sometimes, mangled into whatever anyone wants to think it is.
Officially–and we're talking about in a workplace–a safe space allows the opportunity for employees to voice out their concerns, or personal issues that they need help with. Or it can just be an environment where workers feel like they belong.
The idea of a "safe space" came from communities–ones that emphasize care, safety, communion, and curiosity for those who may not be able to find it elsewhere. Communities are often built to enact change that they want to see in the world. Sometimes, for growth to happen, all it takes is a seed to be planted.
It's not a simple task to make a workplace such a community, no matter the number of care-based jargons and break room perks they'll throw your way, but it can be a place where people can feel cared for.
Huijia Phua, the spritely founder of social enterprise Skillseed, knows this all too well. "It's not as simple as like, 'Hey, go and empathise!'" she says. Skillseed is Huijia's brainchild–a social enterprise that designs and organize initiatives that emphasize community at its core. All of this isn't done by simply coming up with ideas on the drawing board.
The Skill Behind Care
Huijia calls it a "science-based, evidence-based kind of community engagement" that Skillseed does–it's one that uses extensive research (and ground experience) to back their efforts that prize empathy, trust and collaboration above anything else.
Skillseed turns 10 years old this year. "Our mission, really, is to build collaborative communities of deep trust," Huijia declares to me. They do this in two ways, she explains: community-building and capability-building.
One of their most recent initiatives involves Resilience Trails–a series of walking trails around neighborhoods led by residents from under-resourced communities.
These trails allow a peek into a world that most people never get to–or choose not to–see: the challenges that their communities face day-to-day, while at the same time showcasing the Guides' and their communities' strengths and perseverance in managing such challenges–hence "resilience".
"These are vulnerable communities–they may be persons with disabilities, they may come from lower income families," she elaborates.
"We work with them to co-create and co-run learning trails in their own neighbourhoods."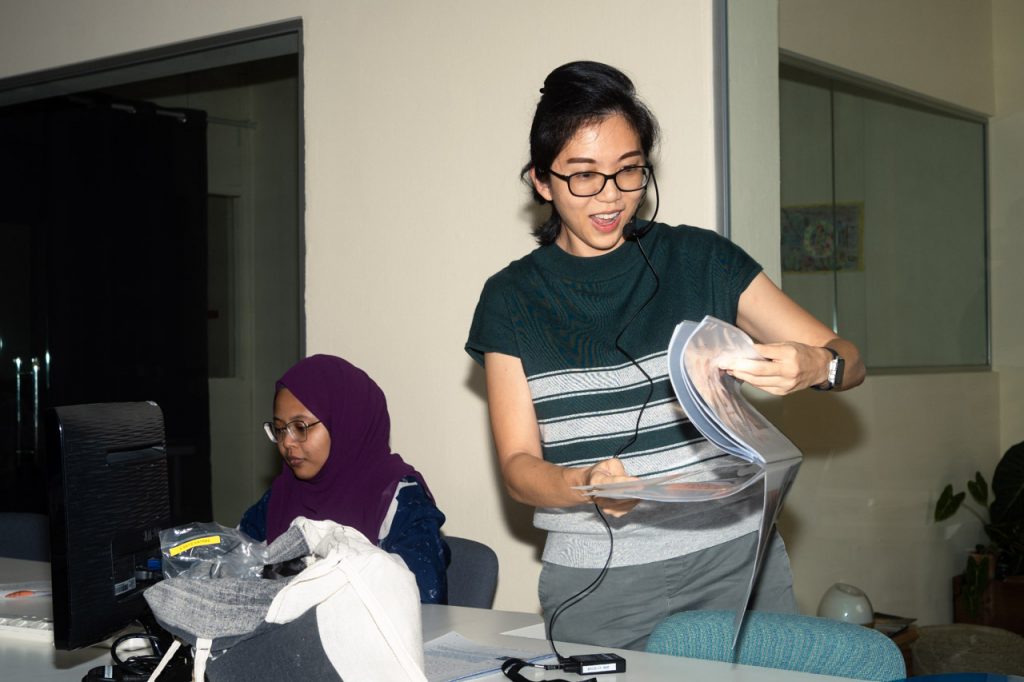 Hujia is undeniably a people's person–easy to approach, not afraid to let her goofy side loose in front of the camera.
Skillseed engages them as community guides, paying them rates "six to seven times" the hourly rate of a typical F&B crew, while providing "dignified, flexible, and home-oriented employment."
'Sustainable' has been a word mainly associated with environmentally-conscious efforts–one that you would see accompanied by compostable cups–but it's not always product-centric.
To her, a company can be sustainable by establishing a culture that centers on its people: "For whatever you want to achieve, how does community play a part? And who is your community? I think those are important questions to ask."
They currently employ five guides, each of whom have their own area within Ang Mo Kio that they specialize in. One of them, Huijia shares, is deeply passionate about the stray cats in their area. During the trails, some of these cats even make a special appearance.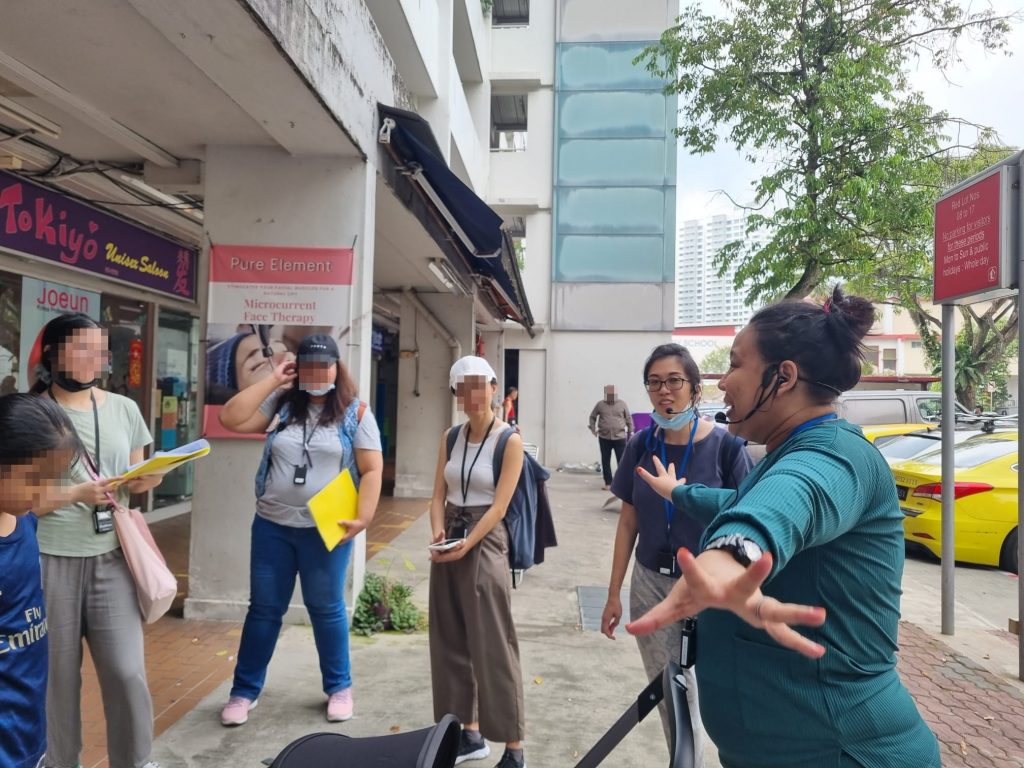 Huijia and Lydia, a community guide facilitating a resilience trail in Ang Mo Kio. Photo by Skillseed.

Dollars, Sense, Sensibility, and Skillseed
Skillseed is a business, so Huijia has to gear her company for the realities of the dollars and cents. In the early years, the company focused on developing socially impactful experiential learning courses for school and corporate clients, in partnership with other social enterprises around mostly Asia.
These can come in the form of exposure courses–for example, a course educating participants on the ongoing eco-conservation efforts in Bali.
Their project-based courses, which have focused on important cultural issues like urban sustainability and arts longevity, allow a more hands-on approach for their participants.
Skills-based courses, on the other hand, go directly to the heart of the matter–a previous course, titled Marketing for Mamas, placed small Cambodian businesses in the hands of students specializing in marketing disciplines.
In recent years, however, Skillseed has refreshed its mission to focus more on local community initiatives, as well as on equipping participants from across all sectors in the heart of community and citizen engagement skills.
The Resilience Trails, which have become Skillseed's calling card, have been organized for a diversity of people–from white-collar employees under government bodies and investment funds, to curious secondary school students.
These responsibilities to their clients, which includes Huijia taking on the role of client servicing, developing curricula distilled from insights from Skillseed's community initiatives and project management, have placed her into a more strategic position–a move that was difficult for someone who cherished being "on the ground".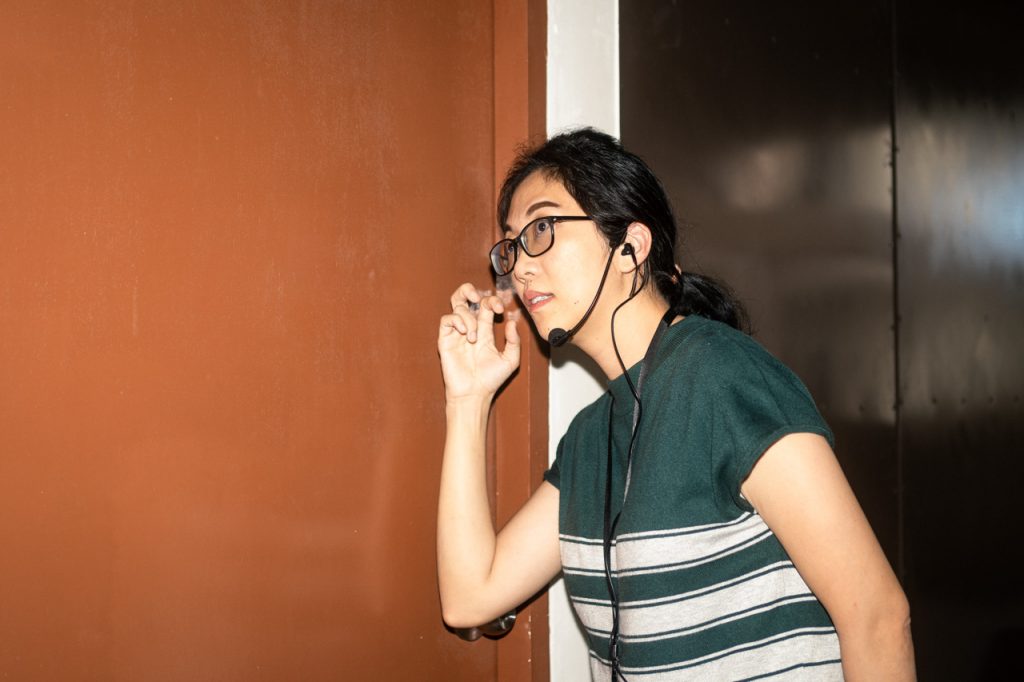 A crucial part of Skillseed's business model requires introducing corporations and institutions to the Resilience Trails and Skillseed's training modules in citizen and community engagement.
Huijia wants Skillseed to be a sustainable workplace too. "A sustainable workplace means sustaining core organisational values from top to bottom, from one generation of Skillseed staff to the other," she explains. It also means incorporating a degree of flexibility in work–Skillseed's community guides work fully from home, while other team members work from home twice a week.
Huijia's daily responsibilities include handling the bigger picture of Skillseed's growth. She oversees all operations, finance, and partnerships, which also involve pricing and reviewing final proposals for potential client partners.
While she has stepped away from being personally involved with all the ground operations of the Resilience Trails, for example, she's still there to facilitate trails and training for their newly-minted community guides as well as volunteer facilitators when they join Skillseed.
It's clearly a lot of work–where the macro and micro converge into one large responsibility. It's no surprise that Skillseed currently involves five (going on six) full-timers and one part-timer, including co-director Wilson Chan, who's in charge of learning experience design–he figures out the best ways for their Resilience Trails and workshops to be as engaging as they are, while nailing learning and social objectives.
To ensure Skillseed's future in the long run meant some soul-searching. That led her to the Company of Good Fellowship, a five-month talent development programme that grooms professionals to catalyse change for business and society.
It offers budding leaders such as herself a way forward in running a sustainable and purpose-driven business that never loses sight of its day one ethics.
In some ways, Skillseed was the first real-world venture that Huijia drove right into–but not without some practice.
Bring Your Own Ideas
The 'BYO' in BYO Coffee, Huijia's first business venture as a student in Yale University's Yale School of the Environment, means exactly what you think it is. Coffee was sold, and patrons were required to bring their own mugs or bottles to be served.
"I wanted it to be community-owned," she remembers. Aside from brewing heaping doses of coffee, Huijia worked with different clubs and initiatives to use the cafe as a place of discourse and promotion–film festival programmes, fair-trade chocolate sellers, and rights activists found kinship in BYO Coffee. "It was the people's cafe," she adds.
Since graduating, along with starting Skillseed in Singapore, Huijia passed on BYO Coffee to the next generation of students. She's visibly emotional when talking about BYO: a lesson she's learned from her BYO days is to "not hold on to things" too preciously.
"One of the key things I did before I left was to establish a system where generations of students can take care of it, so that it wouldn't end with me."
This has been Huijia's style, one that has proven to be a powerful magnet for like-minded folks. This is also sustainability: ensuring beneficial ideas and empathetic attitudes persist over time without having to slap a self-conscious campaign slogan on it.
"If I step down one day, I would like to hear from others that Skillseed's core values of authenticity, relationality, dignity, empathy and a strengths-based approach continue to be reflected in our programmes, and in our service experience with all partners."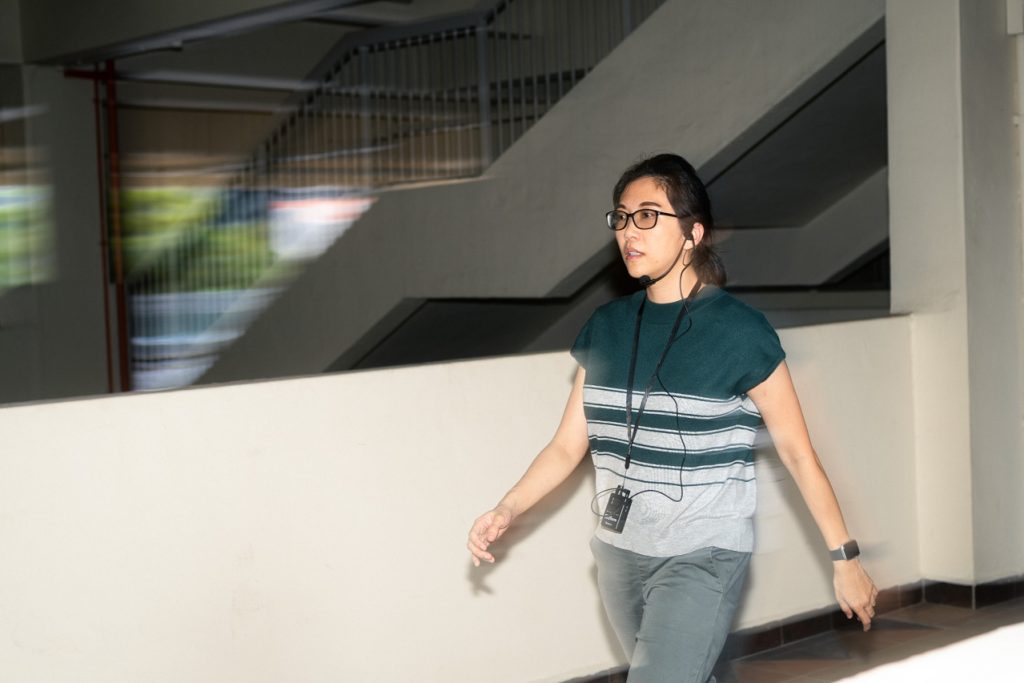 She joined the Company of Good network because she felt Skillseed was at a "pivotal moment" in their operations.
"It's not just about social impact," she mentions, adding that she doesn't want the perception of Skillseed to be a charity, but a business with ethics and empathy at its center. "We want to achieve excellence in all areas of our work."
From Safe Spaces to Brave Spaces
In Skillseed, Huijia aims to establish a work environment that is defined beyond a "safe space".
She introduces the idea of a "brave space" in the conversation: "Brave spaces are, like, 'Actually, I have a different opinion! But I want to be able to raise it.'"
"We're trying to move towards brave spaces, where people can share things that are controversial, that may be provocative or thought-provoking. [The question is] how then do we respond to that in a relational and kind manner still? So that's what we're challenging ourselves with."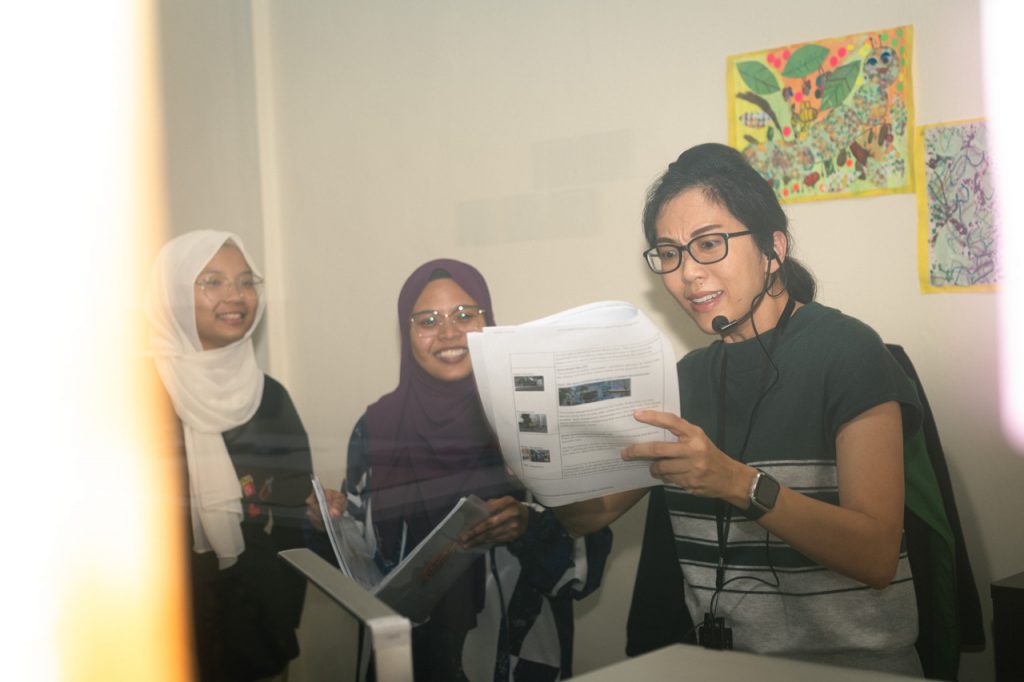 Huijia thinks that being curious and open also means being prepared to be "intentional and patient listeners", to "suspend judgment", and "being open to not just possibilities, but potential critique".
As a mother with her own demands at home, she admits that "a quarter of her brain cells are dead" with half "swimming in caffeine"–she's learning to practice these values herself in the workplace, where she is, all things considered, the boss.
"I can't say that we're completely successful because I'm afraid if I think that we are, we'll stop learning and trying to be better. There is always room to be better."
As each day passes, Huijia continues to help grow her own company, and its engagement with various communities. She doesn't see that ending any time soon–even as she also focuses on Skillseed's current phase of "regeneration".
"I think we're past sustainability at this point," Huijia admits. She believes this current phase means rethinking the company's strategies to avoid doing the same thing, year after year." She mentions that Skillseed intends to wind down its regional workshops in order to focus on expanding their Resilience Trails across the island.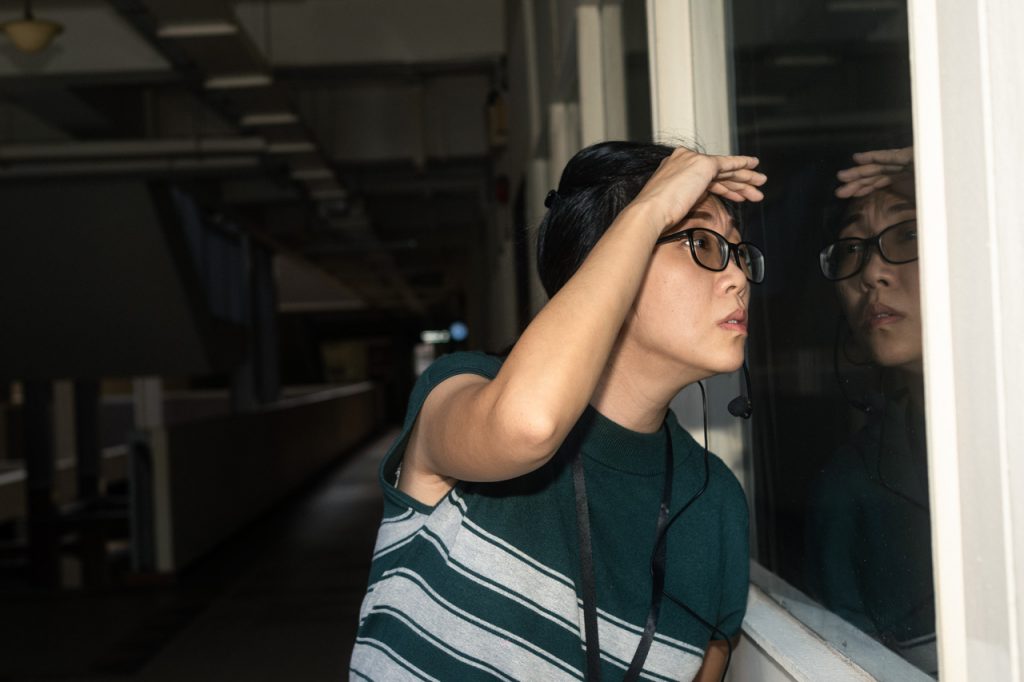 There are mentions about "pruning" themselves, and finding the "next generation of leaders", but one thing will never change about Skillseed.
"It's our core value," she says. "To let communities, who care about the work, own it and grow it."
Skillseed